January 22, 2014
One of the best skincare combo products developed is the facial cleanser + scrub. Not only does it leave your face free from dirt and oil, but dead surface skin cells are exfoliated away to reveal healthier skin below.  There are a couple other things to look for if you want the best face wash and exfoliator for your skin type: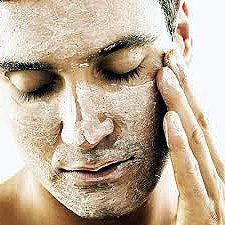 First, your face must not have any redness after use.  If it does, it means the exfoliating beads/particles in your product are too rough and jagged and/or you are using too much force when rubbing the product in circular motions onto your face.
Second, your face must not be dry and crackled after use.  This may signal that your product's formulation is too harsh for your skin and should be discarded and replaced with something better.
We at TwinLuxe have developed the right combo facial cleanser and exfoliator for you.  Give our Renewing Face Wash & Scrub a try.  It's gentle enough for every day use and fantastic to use pre-shave for a closer shaving experience.  It uses synthetic circular microbeads in varying sizes to help carefully scruff away all roughness.  Does not over-dry or over-exfoliate and leaves your skin glowing!

Tags: face wash scrub, facial cleanser scrub