February 25, 2014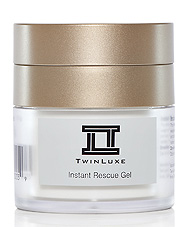 If you happen to constantly nick yourself while shaving, experience redness from razor burn, or have an annoying itchy mosquito bite or a burning zit that just popped, the TwinLuxe Instant Rescue Gel is the perfect skin care healing product for you.  This soothing botanicals formulation fights irritation, calms and cools irritated skin to provide instant relief — use for any skin care or shaving emergencies.  Since our gel is an innovative product to hit the men's grooming market, we often get asked — "Well…how do I use it?"

The Instant Rescue Gel has a translucent toothpaste consistency.  The proper way to apply this product is to gently dab it on your problem spot.  Do not spread it out thin like how you would with a facial moisturizer.  Instead, it is best to leave the gel lumpy on the target area. 

For shaving emergencies, applying the Instant Rescue Gel in the manner described above allows the blood to coagulate inside the gel and not drip down your face.  You'll be amazed at how fast the bleeding and/or redness stops. You will also feel a slight stinging sensation on any open cuts letting you know that the botanicals are doing their magic. After application, let the gel air-dry for around 10 minutes.  It will dry into a thin clear to white flaky layer which can be easily flicked off with your fingertips later.





You'll find the TwinLuxe Instant Rescue Gel to be an excellent remedy for all skincare and shaving emergencies. This is a must-have product for any man that shaves.


Tags: shaving, skin care, TwinLuxe Instant Rescue Gel