September 23, 2014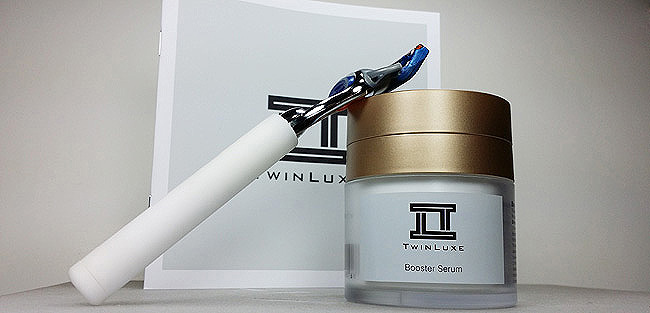 TwinLuxe stands for the advancement in men's wet shaving and skin care products as we are not bound by the traditions of old school English barbershop shaving rituals. We are here to advance them. The TwinLuxe Booster Serum is one such product where we have improved the everyday shaving experience.

Why do we think the TwinLuxe Booster Serum is revolutionary? Because it can be used effectively pre-shave, post-shave, and anytime.
For pre-shave use, one would apply the Booster Serum before the shaving cream. Think of it functioning more as a "pre-shave serum," treating the skin's surface so it becomes smooth and even. Imagine spreading jam onto a toasted English muffin with a knife. You'll never get a smooth and even spread due to all the crevices and ridges on the muffin. This is how your face is – uneven in texture if untreated. The Booster Serum fills in all the crevices and ridges while prepping and moisturizing the skin. Smoother skin equates to a smoother and closer shave. The Booster Serum also provides an extra layer of skincare protection from your blade like a pre-shave oil but without the oily mess.
For post-shave use, apply the Booster Serum onto any shaving irritation problem spots caused by dull razor blades, improper shaving techniques, or poor quality shaving products. The soothing botanicals found in the product will help heal and calm any shaving redness.
And for anytime use, our Booster Serum will help hydrate and moisturize skin. Many TwinLuxe customers even use it as a night-time repair serum!
Get an edge by using our Booster Serum in your shaving and skincare daily regimens. We have developed a high-performance product to help get you a smoother and closer shave to help you achieve healthier glowing skin.

Tags: preshave serum