October 6, 2014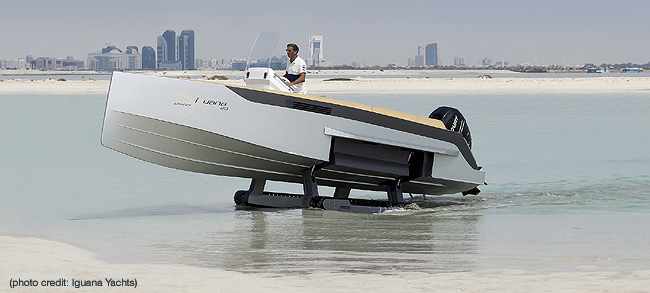 Millionaires today are younger than ever before. Over a decade ago, the average superyacht owner was in their 50's. Now we are seeing successful 30-year old entreprenuers from emerging countries buying their own 265 foot water palaces.

What is a megayacht without its own jaw-dropping water toys? Here are 3 extravagant water toys that have made a splash at this year's Monaco Yacht Show. You can even consider them perfect gifts for the man who has everything:

1. DeepFlight Super Falcon Mark II – Price $1.7 million

This two person hand-built electric submarine can cruise down to 393 feet below the surface for private deep sea exploration. Billionaire Richard Branson and Red Bull founder Dietrich Mateschitz are fans.



2. Iguana Yacht – Price $338,000 – $518,000

This amphibious high performance boat can emerge from the water onto dry land, and vice versa, independently through its own tracks similar to that found on tanks. Forget the boat trailer or marina berths! Ride onto your own private beach with this tank boat.



3. Jetlev Flyer – Price $35,600 – $129,400

Having a 300kg lifting capacity, flying in the air with friends up to 15 meters high is now possible at speeds topping 80 km/hr. The carbon fiber boat and jetpack can provide thrill missions for up to 3 hours long. Forget parasailing…that's for wimps!



And don't forget to use your TwinLuxe sunscreen in any of these water activites!


Tags: luxury water toys